Sydney Workshop with Bronwyn Kirkpatrick
Sunday 2nd September, 2018 10am – 3pm
The Australian Shakuhachi Society invites you to a one-day workshop for beginner (not absolute beginner)/intermediate players, led by Shakuhachi Master Bronwyn Kirkpatrick.  In the workshop we will cover tone production, a honkyoku, a Rando piece and a Japanese folk song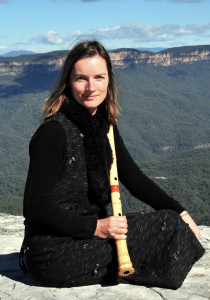 About Bronwyn
Bronwyn is a shihan (master) of the shakuhachi who studied with shakuhachi grand-master Dr Riley Lee in Sydney for seven years.  Bronwyn has been awarded numerous awards and prizes, including a Churchill Fellowship and an Australia Council Skills and Arts Development Grant, which enabled her to further her studies in Japan with Kaoru Kakizakai, Teruo Feruya, Kazushi Matama and Katsuya Yokoyama.  Bronwyn was a prize winner at the prestigious All-Japan National Music Competition (for Traditional Japanese instruments) in 2005 and a finalist at the S-1 World Grand Prix Competition at the World Shakuhachi Festival in 2008.  She performs regularly as a freelance artist, both as a soloist and in combination with western and traditional instruments.
Schedule: The workshop will be divided into morning and afternoon sessions, with the first session starting at 10am and breaking for lunch at 12pm.  The workshop will resume for the afternoon session at 1.00pm and the day will conclude at 3.00pm.
The Studio is located near a plethora of lunchtime choices including Paddy's Markets and World Square.
Cost: $80 ASS members, $100 non ASS-members
Location: Studio 52 Musos, level 5, studio 52, 647 George Street, Haymarket, Sydney.
The Studio is located upstairs and is a 5-10 minute walk from Central Station or Town Hall Station.   Parking is limited due to the Light Rail construction
What to bring:  The workshop will be taught on standard 1.8 shakuhachi.There will be no flutes available to borrow or purchase on the day.
Copies of notation used for the workshop will be supplied by the tutor.
Please bring a music stand
Coffee mug (tea and coffee will be provided.
If you have any questions please email Kerry: kking46@iinet.net.au; mobile 0408 295 146 or Bronwyn: bronwyn.kirkpatrick@bigpond.com; mobile 0413 239 938