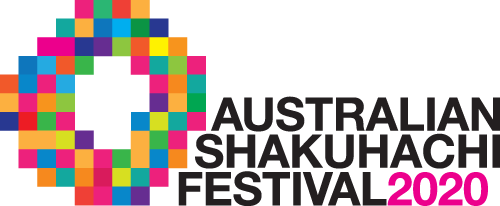 Not a member? Sign up today for $30 and save $10 off ASF20 registration!
Note: If you are unable to pay via PayPal, please contact us and we can arrange a bank transfer or credit card invoice.
ASF20 is a multi-day intensive for shakuhachi players of any skill level. The Festival will take place over four days: October 3-4, and 10-11, from 10am til 2:30pm (plus concerts on October 3rd and 11th). And for the very first time, we will be holding an ASF online over Zoom!

Invited teachers include Teruo Furuya, Kazushi Matama, Kaoru Kakizakai, Riley Lee, Bronwyn Kirkpatrick, Carl Rathus, and Lindsay Dugan.

No matter how long you have been playing, whether you're an absolute beginner or seasoned veteran, ASF20 caters for every level.

Absolute Beginners will be led through a full course that covers basic notes and techniques, reading, and playing traditional folk tunes. You might be surprised at how much you'll pick up in such a short time, while learning from some of the world's leading shakuhachi players.

Meanwhile, veteran players will get a chance to dig deeper into honkyoku and shakuhachi techniques, as well as meet up again with old friends.

Haven't picked up your shakuhachi for a while? ASF20 is perfect for you too, whether you want to revitalise your relationship with the instrument, start totally afresh, or just enjoy dabbling in the music again as a one-off treat, surrounded by like-minded people.

Each day of the Festival includes the customary robuki session, followed by a morning seminar, and then breakout workshops. A variety of repertory will be taught at the Festival, including traditional shakuhachi honkyoku, folk songs, and modern compositions.

Scores and audio recordings of pieces to be taught at ASF20 will be provided in advance to participants.



Performances

There will be two performances held during ASF20:

Teruo Furuya and Riley Lee, October 3rd, 2:45 PM, online over Zoom
This performance is a rare chance to hear two of our most senior players talking about their respective teachers, Chikuho Sakai II and Katsuya Yokoyama, and performing honkyoku connected to those experiences.

The Boite Online Concert, feat. Kazushi Matama, Kaoru Kakizakai, and Lindsay Dugan, October 11th, 3:30 PM
This streamed concert will feature classical solo honkyoku, and modern compositions by Fukuda Rando, Katsuya Yokoyama, and Kineya Seiho. The concert includes a live interview and Q&A session with all performers by the host of The Boite concerts, Therese Virtue. Click here to book ($5 per ticket).



Video recorded workshops

ASF20 workshops will be video recorded* so you can review them at a later time! If you can't decide which workshop you'd like to attend because there are too many good choices, then this solves that problem. Or if you can't attend certain days, then you won't have missed out entirely.



Need a shakuhachi?

Affordable shakuhachi (Yuu plastic shakuhachi, $150 +postage) will be available to order before the commencement of the Festival. Should you need one, drop us an email at: info@shakuhachi.org.au



Shirts and other merch

Don't forget to pick up an ASF20 shirt, as well as a whole bunch of other ASF20 swag! Click 'ASF20 Shop' to see what is available. Order early to ensure that your item arrives in time to model it in the Zoom call.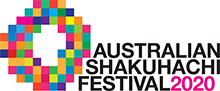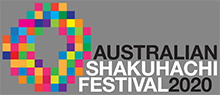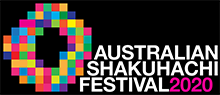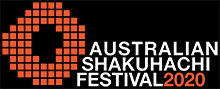 ASF20 SCHEDULE
Scroll to view the ASF20 schedule.
Details will be updated in the coming days.
Festival Registration:

ASS Members: $210
Non-members: $250
Absolute Beginner**, ASS Member: $110
Absolute Beginner**, non-member: $150

* By registering for ASF20, you accept that the workshops will be video recorded, and that you may be included in public recordings. If you do not wish to be included in these recordings, you can mute your video in Zoom. You will still be able to participate and interact in the workshop via audio if you choose to mute your video.

These recordings will only be made available to ASF20 participants. We rely on participant's discretion to refrain from sharing these recordings with other people or websites.


** You would qualify as an Absolute Beginner if you are new to the shakuhachi, or have never taken more than a few lessons with a teacher


Not a member? Sign up today for $30 and save $10 off ASF20 registration!
Note: If you are unable to pay via PayPal, please contact us and we can arrange a bank transfer or credit card invoice.
Contact:
info@shakuhachi.org.au