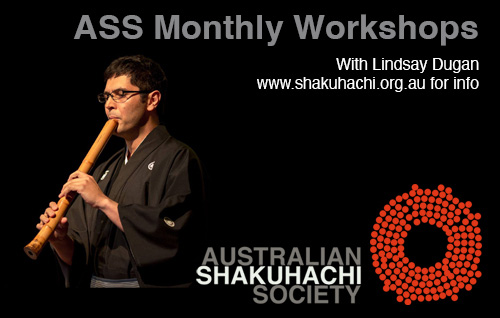 ASS Monthly Online Workshops
Sunday November 19th 2023, 12:30-14:00 (AEST)

The next monthly practice workshop is on Sunday November 19th, hosted by Lindsay Dugan. These workshops are based on a simple, iterative routine that he developed for his own personal practice, and which he eventually started using for teaching as well.

For the November and December workshops, we'll look at Tamuke. This melodic honkyoku is excellent for polishing tone quality and pitch intonation. As we did previously with Hon Shirabe and San'ya, we'll continue to tie practice exercises to specific locations in the piece to work on sound and ergonomics.

These workshops are less about how to play specific honkyoku, and more about how to practice. The focus is on refining physical awareness and movement, sound control, and the mind's ear. We will concentrate on one point at a time, some of which will include:

- Developing better playing posture, finger movement, and breathing
- Holding the shakuhachi more easily
- Playing kan notes more cleanly and with less tension
- Working on dynamics and tone
- Improving tuning and pitch intonation
- Recognising adverse habits, and finding better ways to use your body


The workshops are progressive, but many practice methods require reiteration and repetition, so you can dip in and out on a month to month basis.

Workshop materials will be provided upon registration. You will also need an electronic tuner, and a metronome (you can either use dedicated devices, or one of the numerous free phone apps available).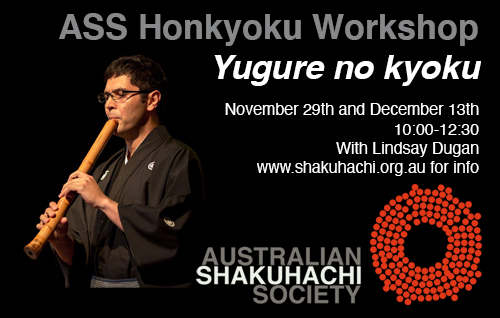 ASS Online Honkyoku Workshop
December 13 2020, 10:00-12:30 (Melbourne, AEDT)

Yugure no kyoku ('Dusk') was transmitted at the temple Ichigatsu-ji, which was the komuso headquarters of Edo. Yugure was inspired by the sound of the evening bell at the temple Chion-in, in Kyoto. Kurosawa Kinko learned the piece from a priest at Ichigatsu-ji, and incorporated it into his collection of honkyoku. Strictly speaking, Yugure is not one of the sacred pieces. It uses Akebono tuning, and is more melodic and evocative than other Kinko honkyoku pieces.

For these workshops, we will be using the Miura Kindo score (provided upon registration). You can hear a recording at this link.

The piece is split up over two workshops, November 29th and December 13th. For December, we'll review Kinko-style ornamentation and techniques, and continue with the remainder of Yugure.

The cost of the workshop is $40/$50 AUD (ASS members/non-members), and will run from 10:00am to 12:30pm (Melbourne AEDT). The workshop will take place online using Zoom.

The Beginner's Workshop will also be on from 1pm. To register, just use the same Paypal dropdown menu, and specify your workshop choice in the registration form.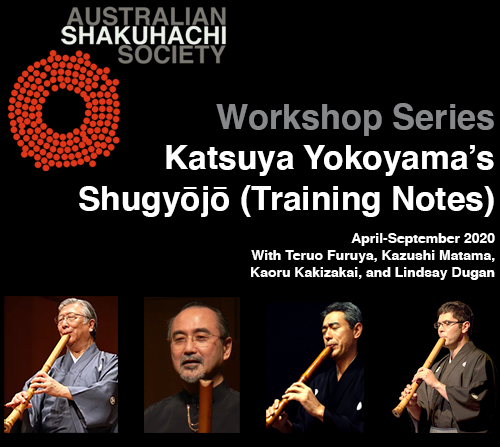 Due to technical issues, we were forced to reschedule the September 27th workshop. The new date for the final Shugyojo Workshop is October 18th 2020.

The schedule for the day, including the 1pm Beginner's Workshop, remains the same as usual.

Anyone who has already registered but is unable to attend for any reason at all, or would otherwise like to be refunded, please contact us, and we shall have you sorted out ASAP.

For those who have already registered and plan to attend the October 18th workshop, there is no need to do anything else except join in as usual on Oct 18th.

And for those who haven't yet signed up, info and registration is available below.
_______

The final session in the Katsuya Yokoyama's Shugyojo (Training Notes) Online Workshop Series is happening on October 18th 2020, with Kaoru Kakizakai and Lindsay Dugan.

Once a month, for a total of six months, guest teachers from the KSK to share their knowledge and experience. The series will focus on nine themes on shakuhachi training from Katsuya Yokoyama's book, Take to Ikiru (Life of Bamboo). Lindsay will be co-teaching and translating.

The cost of the workshop is $80/$100 AUD (ASS members/non-members). You can still take advantage of the member's discount even if you don't reside in Australia - just click on 'Membership' up above to join.

Each month, we will run two individual session times. Depending on where you are located, you can choose the session that suits you best.

Session 1: 10:00 - 12:30 AEST
Session 2: 18:00 - 20:30 AEST

For more detailed information, click the image above. Or, sign up below!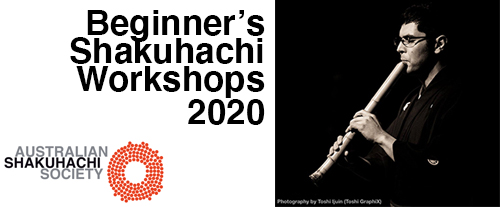 Monthly Online Beginner's Workshop: October 18th 2020

The Australian Shakuhachi Society invites you to monthly ASS Beginner's Workshops to experience the art and sound of the Shakuhachi - the Japanese bamboo flute.

These workshops are perfect if you are completely new to the shakuhachi, have only been playing a short time (less than one year), or have never taken lessons before.

Beginners can also participate in Katsuya's Shugyojo Workshop and Prep Workshop at a discounted rate, to get a further taste of lessons with KSK teachers and honkyoku.

Sign up below, or click the image for detailed info.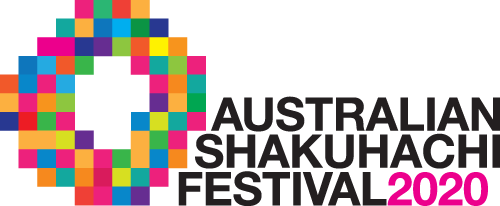 Australian Shakuhachi Festival 2020 is happening!! And, for the first time ever, the Festival will be held online.

Four days of shakuhachi workshop bliss on October 3-4 and 10-11, 2020. Click the banner above for more details.


In light of the rapidly changing situation with the ongoing Covid-19 epidemic, and the Australian Government's recently announced restrictions around gatherings, the ASF20 committee has decided to cancel ASF20. This is not a decision which has been taken lightly, however in the interest of public safety and for the welfare of all, this is the right decision. Due to continuing uncertainty about timelines, the ASF20 committee is not making plans to organise one in the future. We expect and hope that after things settle down, ASS will be in a position to think about the next ASF.

Stay safe and take care.

ASF20 committee
April 25 2020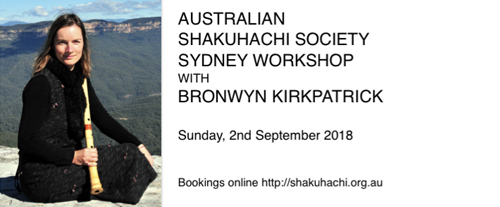 The Australian Shakuhachi Society invites you to a one-day workshop in Sydney, led by Shakuhachi Master Bronwyn Kirkpatrick. Sign up below, or click above for info.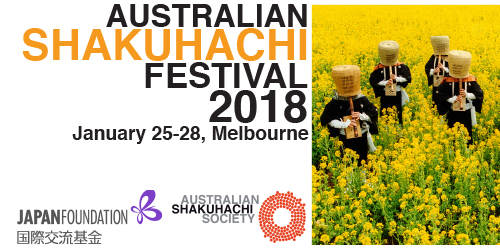 The Australian Shakuhachi Society is pleased to announce Australian Shakuhachi Festival 2018 (ASF18). ASF18 is a multi-day intensive for shakuhachi players of any skill level. Held over four days, the Festival includes concerts, group workshops, and individual tuition.

ASF18 PDF flyers here:




As part of ASF18, the Shakuhachi Masters Concerts will take place in Melbourne (Jan 27), Sydney (Jan 31), and the Blue Mountains (Feb 1). Links to online booking at trybooking.com and flyers below.

Melbourne Concert - Flyer | Purchase tickets

Sydney Concert - Flyer | Purchase tickets

Blue Mountains Concert - Flyer | Purchase tickets


Become a member today to support the Society, and get member discounts to workshops and festivals.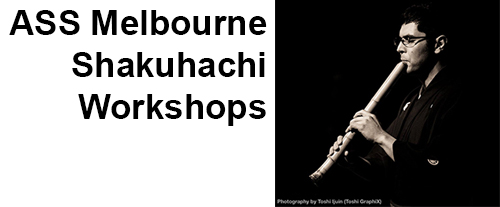 Come and learn shakuhachi at monthly ASS Shakuhachi Workshops in Melbourne, led by Lindsay Dugan.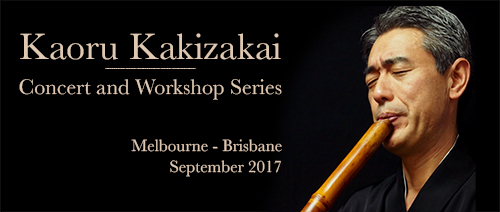 Kakizakai Workshops and Concerts in Melbourne and Brisbane, September 2017