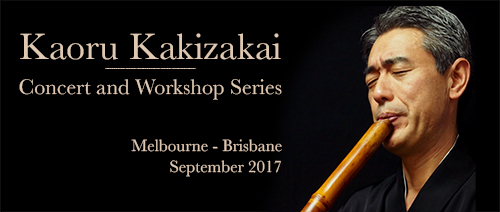 World renowned master of the shakuhachi, Kaoru Kakizakai, is giving a series of performances and workshops in Melbourne (Sept 14-20) and Brisbane (Sept 23).

Links to flyers and info about workshops and concerts below. Click here for Melbourne Workshop registration.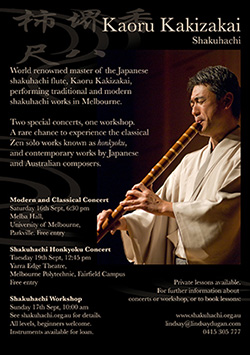 Melbourne Concerts, Workshop, and lessons
Lessons with Kakizakai sensei
Kakizakai sensei will be giving one-on-one lessons at $100 per hour.

For enquiries or bookings, contact Lindsay Dugan on 0415 305 777, or lindsay@lindsaydugan.com



Melba Hall Evening Concert: Modern and Traditional
Saturday September 16th, 6:30 pm
Melba Hall, University of Melbourne, Parkville Campus

Japanese master Kaoru Kakizakai will perform a selection of traditional and contemporary works for shakuhachi (traditional Japanese bamboo flute). An internationally acclaimed performer in the tradition of honkyoku (solo shakuhachi pieces that are historically rooted in Zen Buddhism), Kakizakai also regularly performs as a soloist for November Steps (1967), the quintessential work of critically acclaimed Japanese composer Toru Takemitsu (1930-1996). The programme will feature several honkyoku pieces that showcase the instrument performing its most intimate solo repertoire, as well as several pieces for small ensemble.

Accompanying Kakizakai will be Lindsay Dugan (shakuhachi), who spent ten years in Japan learning from Kakizakai, and Brandon Lee on koto (traditional Japanese 13-string zither), who studied as a live-in student with koto virtuoso Kazue Sawai.

The concert also features a composition by Australian composer Lachlan Skipworth, Light Rain (2009) for shakuhachi and string quartet, featuring Filigree Quartet (Hannah Spracklan-Holl, Arun Patterson, Dovi Hanner, and Ellie Walker).

This is a free event. Bookings is not strictly necessary, but is encouraged to guarantee seating.

Links:
Events at University of Melbourne: Kaoru Kakizakai
Google Maps link: Melba Hall
Melbourne Polytechnic Lunchtime Concert: Shakuhachi
Tuesday September 19th, 12:45 pm
Yarra Edge Theatre, Melbourne Polytechnic, Fairfield Campus

Kakizakai will play a number of solo and duet honkyoku, and modern shakuhachi works. Lindsay Dugan, shakuhachi performer now based in Melbourne, will be joining Kakizakai.

Free entry.

Links:
Google Maps link: Melbourne Polytechnic Fairfield Campus
Fairfield Campus map PDF, Building G
Melbourne Shakuhachi Workshop
Sunday September 17th, 10:00 am - 2:30 pm
210 Berkeley St, Parkville

This workshop will consist of two parts. First, Kakizakai sensei will take us through his methods for sound production and embouchure, and second, will teach the honkyoku piece, Tamuke. Depending on the number of participants and the breadth of skill levels, the group may be split into two smaller groups for the second session, with Lindsay Dugan teaching the beginners group.

This will be an excellent prelude and preparation for ASF18 (January 25-28, 2018), and even if you cannot attend ASF18, a great opportunity to learn a honkyoku piece with Kakizakai.

Beginners are warmly welcomed, and instruments will be available for loan or purchase (please let us know in advance if you wish to purchase or borrow a shakuhachi).

Music stands and notation will be provided. Street parking available nearby.

Google Maps link: 210 Berkeley St Parkville

Workshop schedule:
10:00 - 11:45 Session 1
11:45 - 12:45 Lunch break
12:45 - 14:30 Session 2

Workshop cost:
ASS Members - $100
Non-members - $120
Absolute beginners - $80

Payment and registration for the workshop is conducted through Paypal (for those who do not use Paypal, email lindsay@lindsaydugan.com)

Become a member of the ASS today to be eligible for member's discounts for workshops and festivals!

Brisbane Workshop and Concert
Shakuhachi Workshop
Saturday September 23rd, 2:00 pm - 5:00 pm
Indooroopilly Uniting Church
74 Station Road, Indooroopilly


Kaoru Kakizakai Brisbane Concert
Saturday September 23rd, 7:30 pm - 9:00 pm
Indooroopilly Uniting Church
74 Station Road, Indooroopilly

Suggested donation:
Workshop only - $80
Concert only - $25
Workshop and Concert - $95

Parking is available onsite (entrance off Musgrave Rd), and there is street parking on Musgrave Rd. Parking is also available at Indooroopilly Shopping Town (first three hours free).

For further information, contact Carl Rathus on 3379 7859 or c_rathus@hotmail.com

Google Maps link: Indooroopilly Uniting Church