The Australian Shakuhachi Society (ASS) invites you to a two-day workshop to experience the sound and art of Shakuhachi. The workshop will be held 1-2 October 2011 at the Robert Webster building, UNSW  Kensington Campus . Please click on the following poster to find out more. For inquiries regarding the Workshop, please phone David on 0416 370 703 or email shakachichibu@hotmail.com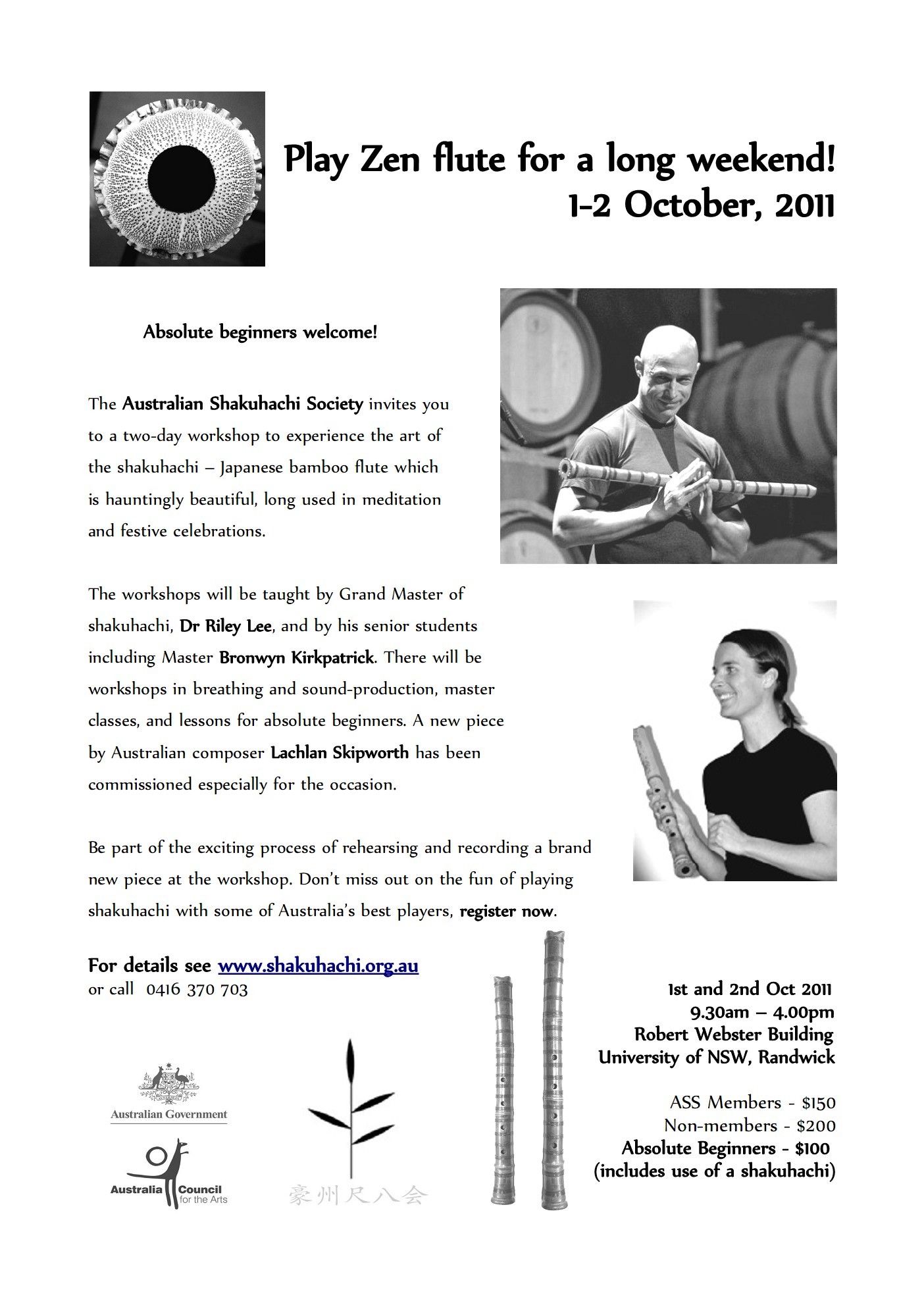 Venue and Directions:
For general directions to UNSW, please consult the google map.
Getting to and from UNSW Kensington Campus via public transport, you may find this link useful.
The Robert Webster building is located at G14 on the UNSW Campus Map. We suggest that for your convenience, please proceed to the Uni Mall side door of the Webster building.  Should you need any assistance, please call David on 0416 370 703.
On-campus parking is free of charge on the weekend.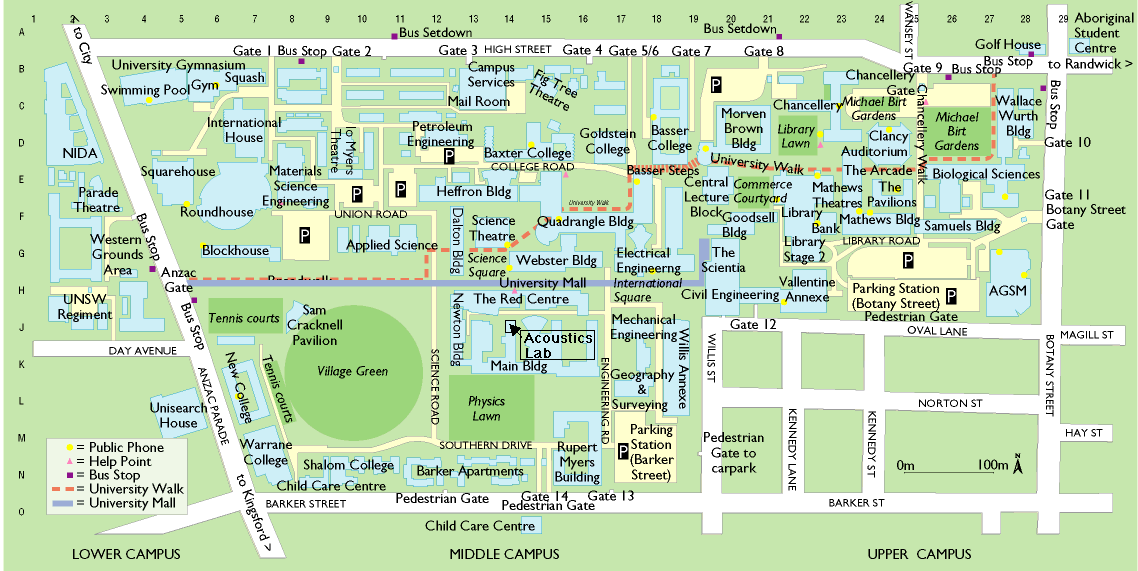 ASS Workshop 2011 Lunchboxes: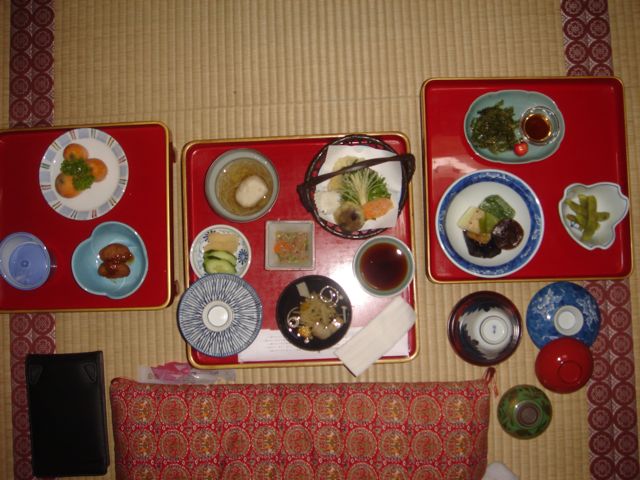 Participants at the ASS Workshop 2011 may wish to order Lunch in advance – University facilities are mainly closed for the long weekend – so that you can perform/ listen, enjoy the lunch-time concerts. These sushi lunches will be delivered. The price is 20 dollars for two meals. If you are a vegetarian or have special dietary requirements, please let us know by sending an email to shakachichibu@hotmail.com
Please go to the main page of Australian Shakuhachi Society to select the payment options.
Program:
Here is the Timetable for the ASS Workshop Weekend and AGM.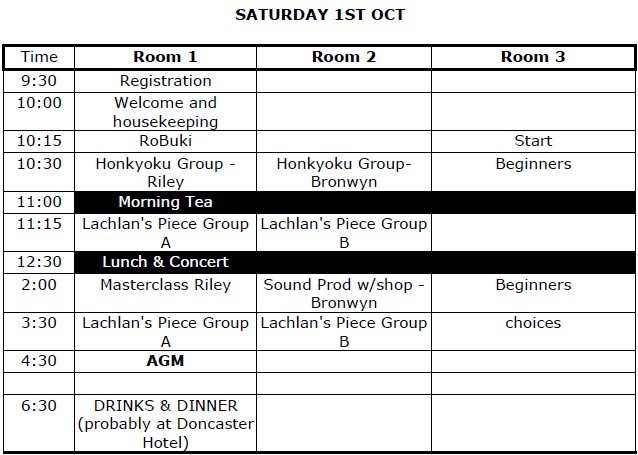 If you would like to attend only the AGM, there is of course no charge.
These sessions follow the familiar format in which the pieces are worked through in a group, led by Riley or Bronwyn. Attention is also paid to the elements of ensemble performance – developing the awareness necessary to play together in non-rhythmic music. Riley will teach Oboro TsukiYo and Koku. Bronwyn will teach Tamuke and DaHa.
Masterclasses by Riley and Bronwyn are in the usual format that is a public lesson with a student observed whilst being taught. If you would like to be a student in either of these sessions please let me know (shakachichibu@hotmail.com). There can be a number of students in each session.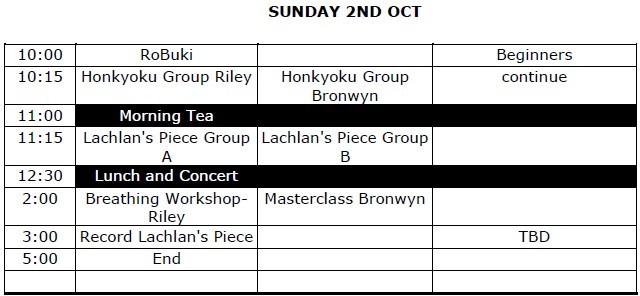 Lachlan's Piece: The Australia Council granted us funds to commission this piece from Lachlan Skipworth. Lachlan is a shakuhachi player and experienced in various genres. The commission requires that the piece has parts for a range of levels of expertise – diffident to virtuosic. Groups A and B will work separately and together as we discover the piece. Rehearsing and recording will be an interesting and rewarding experience.
AGM Sat 1st Oct 4.30pm: All committee positions are open for nomination and election. Usual formalities will be dealt with. The agenda then is open; please consider what you would like the society to be and do. Any agenda items should be put to secretary Bronwyn Kirkpatrick. Formal notice of the meeting will be sent separately.
Lunches: Workshop weekend lunches cost $10 and are sushi boxes provided by a local vendor. A variety of beverages will be available. There is little open on-campus on the long-weekend and you would not want to miss the lunch-time concerts: so book a sushi box when you register for the weekend.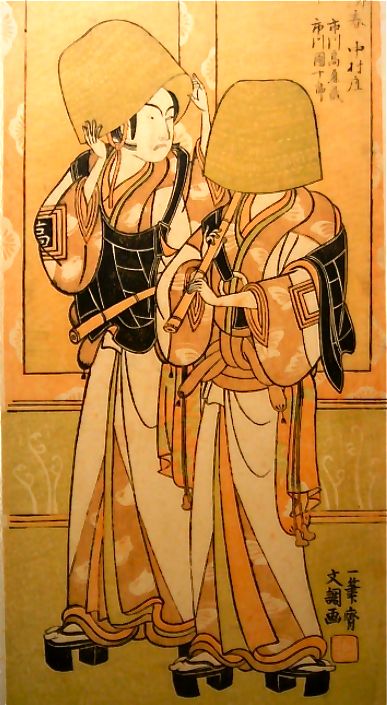 Concerts: On both days there will be informal lunch-time concerts. Feel free to present your party-piece, group, anything. Taking an opportunity to perform is a guarantee of an intense learning experience. Please let me know what and which day you intend to perform : shakachichibu@hotmail.com.
(The first item on the concert program will be a performance of ShunSui by Katsuya Yokoyama, played by David Dixon and Lachlan Skipworth.)
Beginners have their own dedicated schedule which will be flexible according to numbers and progress.
I look forward to seeing you at what will be a great weekend.
David Dixon