On behalf of the ASS committee, I hope everyone is healthy and feeling ok. These are rather difficult times we find ourselves in. With social isolation, our collective mental health will be tested to some degree over the next months, and beyond. People do speak, from time to time, of the social utility of art and music, and the benefit to humanity…. well, allow me to present one possible benefit. Escape the stress of being cooped up by joining us in the monthly ASS Melbourne workshop, and play some shakuhachi.
In addition to the face-to-face workshop, I also started streaming the workshop online at the end of last year. Got the ma right with that – streaming is now all we have. Despite a few technical issues, the stream has done the job, and is running well. Two cameras are used for a shot of my talking head, and a close-up on my instrument, so it's easy to see and understand the fingerings.
For this workshop, we'll be doing the Kinkoryū piece Hifumi hachigaeshi using the Kindo score. In recent months we've been looking at the KSK score, but to compare and contrast the scores, techniques, and aesthetics, we'll be doing Hifumi in the Kinko style.
I've decided to make the participation fee for this weekend's workshop donation-based, rather than setting the usual fee. ASS member or not, pay as much or as little as you like.
The next workshop is on this Sunday, April 5th. Absolute Beginners is at 13:00 – 14:30, and the main session at 15:00 – 17:30 (AEDT). Daylight savings ends on that day, so take care of the time.
I'll still run our usual workshop format, looking at techniques and a honkyoku piece, but with a slightly longer break in the middle, and maybe some time at the end, for a bit of social connection.
We'll be using Zoom, which is similar to Skype. Login and setup information for Zoom will be provided after registering. A link to the registration form is on the ASS front page; even if you don't donate, you'll still need to fill out the form to register.
Register at www.shakuhachi.org.au
Also, there could be something very special brewing in the next few weeks, so watch this space…………
Regards,
Lindsay Dugan
Date and time:
Sunday April 5th 2020
Beginners: 13:00 – 14:30
Int/adv class: 15:00 – 17:30
Cost:
Donation, for this workshop only. Participation fee is usually:
ASS Members: $40
Non-ASS members $50
Copies of notation used for the workshop will be available on the day, and also emailed out to registered participants before the event.
lindsay [at] lindsaydugan [dot] com or call 0415 305 777.

About Lindsay Dugan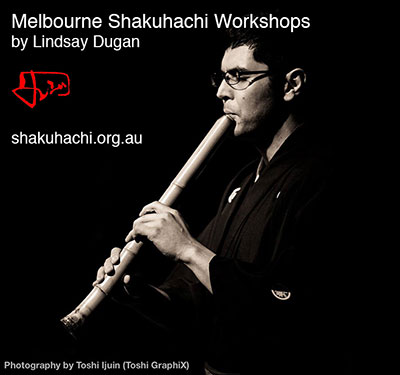 Lindsay lived for ten years in Japan, studying classical honkyoku with Katsuya Yokoyama and Kaoru Kakizakai, and Kinkoryū honkyoku and gaikyoku with Jūmei Tokumaru.
He holds Masters degrees in shakuhachi performance from Tokyo Geidai (Tokyo University of the Arts) and Sydney Conservatorium of Music, and is a shihan of the Chikushinkai/KSK.
Lindsay currently teaches and performs in Melbourne. He can be heard performing on Kaoru Kakizakai's most recent album, Honkyoku 3.